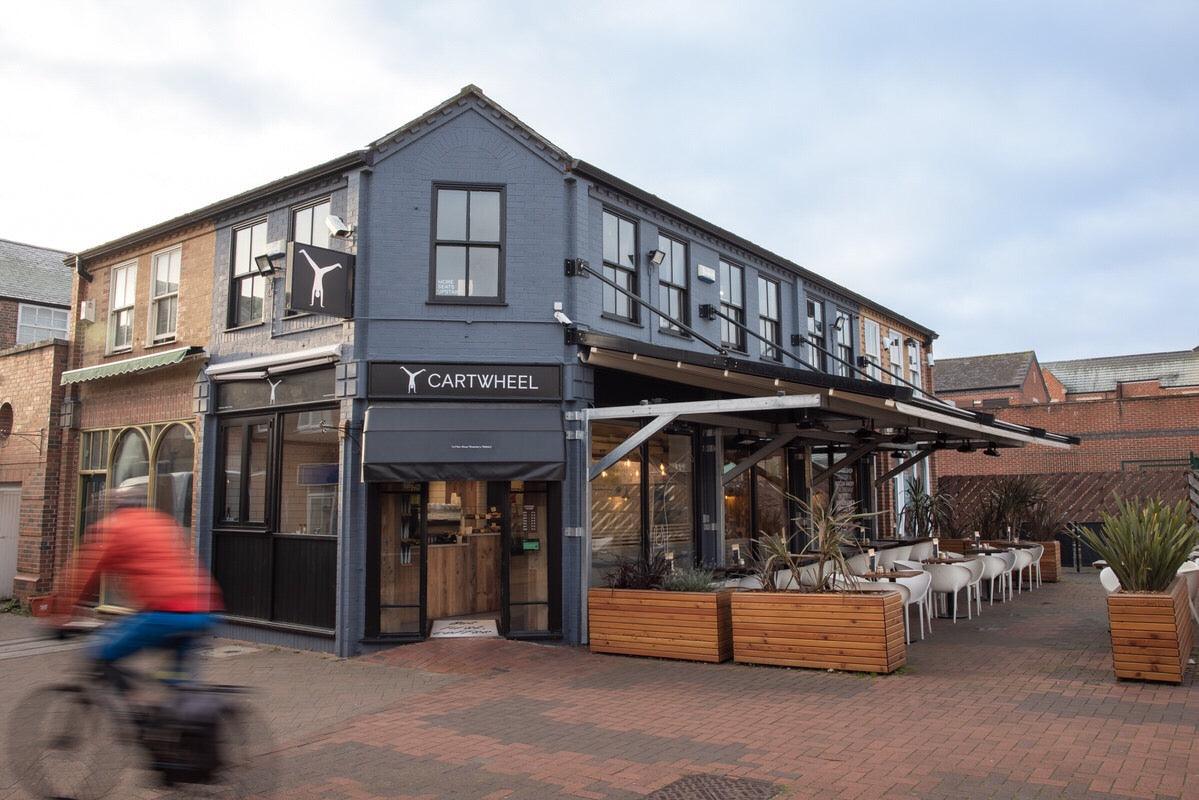 Cartwheel's Story
Cartwheel is an independent coffee roastery and set of cafes based in Nottingham. We are committed to the traceable sourcing and sustainable roasting of some of the world's best coffees. We seek to involve you, our customer, in a transparent conversation about the journey of our product from coffee farm to coffee cup.
Our approach to coffee is simple, but our flavours are bold. We focus on buying higher quality coffee from individual farmers and are motivated by taste, not cost. As a result, a Cartwheel coffee preserves the unique flavours and characteristics of specific growing regions, such as Rwanda, Ethiopia and Colombia – avoiding the conventionally familiar single-note, dark-roasted coffee flavour found in most other high street café brands.
We believe in honouring those involved in the coffee supply chain. Did you know that most of our coffees are named after the individual farms or cooperatives in which they were grown? We also always pay fairly for our beans and support small farmers with expert knowledge and advice to improve their crop quality. We like this transparent and traceable approach because it allows you, our customer, to get exclusive insight into the coffee process and feel secure in our promise that we are united with farmers and paying them fairly. So with every bag of coffee, we attempt, in some small way, to honour and recognise the many people who make it all possible.
Cartwheel Origins
Growing up, our owner Alex spent his evenings and weekends working in The Bean – his Mum's reputable coffee shop in Beeston (now, rebranded under Cartwheel Coffee in Beeston!). At only eight years old, he was helping to clean down the tables and taking orders from customers. By fourteen, he'd worked every role in the café, which gave him a valuable insight into the inner workings of a successful coffee business. From here, his passion for great hospitality and an exceptional coffee experience continued to grow, and the excitement of working in such a fast-paced environment was thrilling to Alex.
Over the following years, Alex had some time away from the café environment, and his family moved to Canada. It was during this period in his life that he truly fell in love with good coffee. It was the first time that he saw coffee as something other than a commodity product, instead, it was becoming a high-quality, delicious drink that took skill and passion at every stage to make perfectly.
When he and his family returned to the UK, Alex embarked on his own coffee journey. He attended several courses in London and other parts of the UK to hone his knowledge and skills, he read books and papers, and even visited coffee shops and roasteries to gain exclusive insight into their processes (something that he would go on to replicate in his own brand, Cartwheel). At this stage, he had absolutely devoted his life to the pursuit of good coffee. The next step was to qualify as a Q-Grader – an accreditation for the professional examination of coffee quality.
Having always retained his passion for serving the people of Nottingham, Alex decided to launch his first cafe in the city centre alongside his wife, Becci – with the aim to be a hub for the people of Notts. They intentionally designed the cafe and associated coffee roastery to create the best in-cafe environment and culture possible, serving exceptionally high-quality, local food and traceable, sustainable coffee – an unfamiliar concept at the time. And we are still constantly striving to be pioneering and innovative in this space.
Since it has developed from that spark of interest in an eight-year-old boy, Cartwheel Coffee has continued to delight our customers each day with uniquely delicious coffee, sustainably sourced food and personable barista service.