Coffee Equipment—what do you need to brew barista quality coffee at home?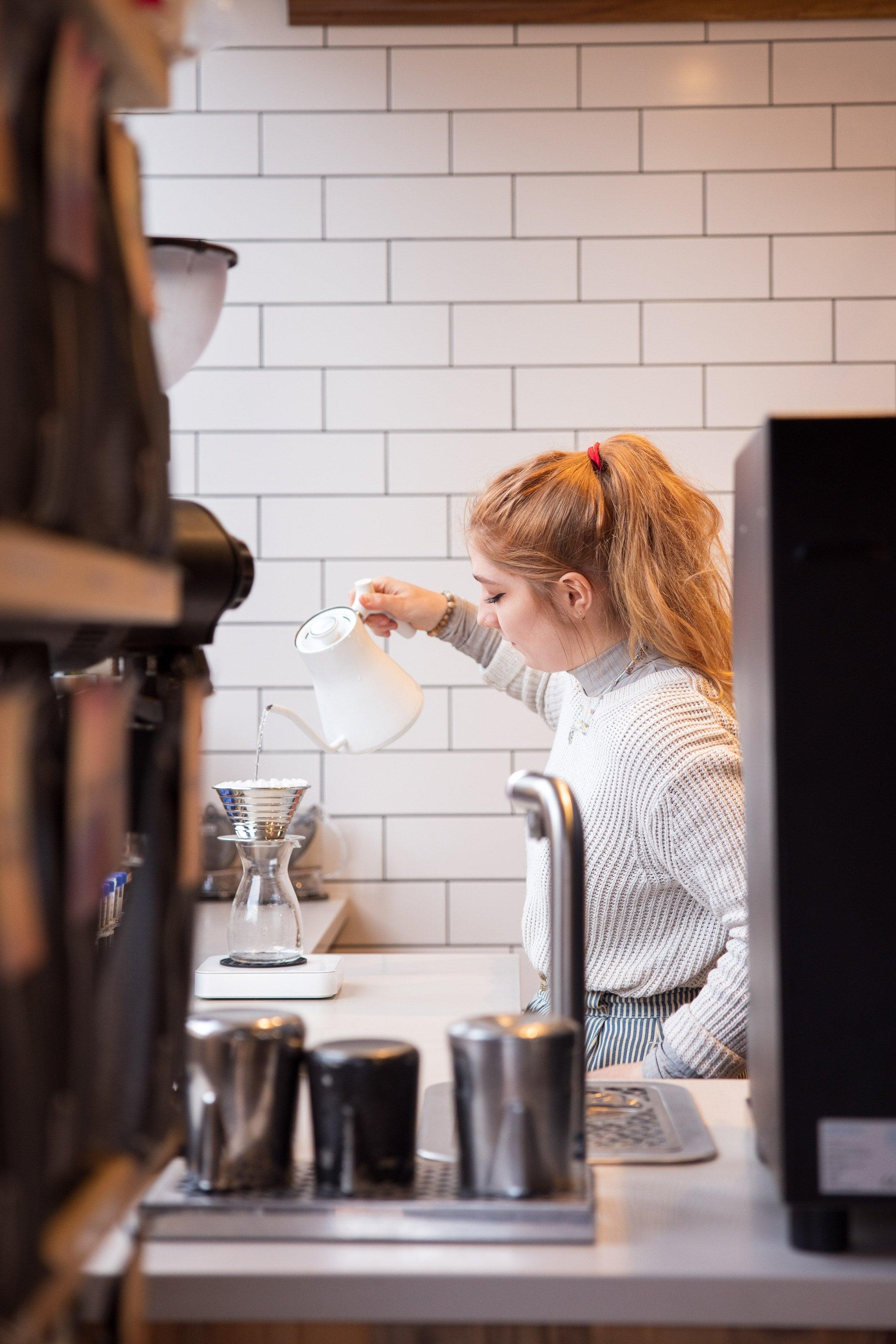 At Cartwheel we pride ourselves on providing our customers with a unique experience. Whether it's a pour-over coffee method or the way that we brew our tea – we want to take the extra steps to ensure that your time with us stands out. Having tried dozens of different  pieces of equipment over the years, some good and some bad, we love to be able to offer you tested advice. Almost all of our equipment is available to purchase yourself, so that you can replicate the coffee shop experience at home - check out our equipment store!
Kinto Cups - Stackable Coffee Mugs
We use Kinto's 6oz ceramic cups for our pour-overs and teas, so it's very likely that you've drunk out of one before! Kinto's vision is to create a balance between usability and aesthetics, with their handle-less design intended to feel just right in your hands. Developed using knowledge and skills from craftsmen in the traditional pottery villages of Japan, we believe that these cups reflect the ethics of our coffee and represent the diversity of Cartwheel as a brand. 
By integrating brands that share our vision, we intend to initiate conversation and lead the groundwork to encourage more businesses to have an ethical outlook towards coffee and its processes. They also look pretty cool!
When brewing our pour-over coffee we like to use a Kalita Wave Dripper. The shape of the filter paper encourages less contact between the filter and the dripper, allowing for more consistency between brews and facilitates evenness in extraction. We pair this piece of equipment with a special kettle designed for hand pours. This kettle has a long, thin spout which helps to provide a controlled flow of water and minimises turbulence in the coffee slurry. Ultimately this will increase the consistency of strength and flavour in our coffee.
The Kalita Wave Dripper can take around 3-4 minutes to brew your coffee, resulting in a brew that is at our desired strength every time. The flat-bottom of the Wave Dripper also aids in an even flow of water through the coffee. Evenness is one of the holy grails of hand pouring coffee. It allows the water to touch every part of the coffee bed, extracting the soluble flavours from the coffee grounds and to develop the sweetness, acidity and body all in a harmonious balance.  
We take all our drinks seriously, including our tea! Using this teapot means that we only stock loose leaf tea, generally renowned as fresher and better quality as opposed to tea bags. Keep an eye out for a tea blog, for more information in the future.
The large space within the teapot means that the leaves are not squashed inside a mesh filter and they have the appropriate space to unfurl and infuse into the water. Some teapots have such a small space within their mesh baskets that they don't allow correct infusion.
Our baristas will brew your tea for 3 minutes, in order to allow the tea leaves to expand and give you the fullest flavour. Each tea has a different brewing temperature depending on it's type and we use a boiler that provides this.
Our favourite thing about this teapot is that it is essentially hands free and indestructible! When we place the IngenuiTEA2 on top of our glass serving carafes, the tea pours itself out of the teapot through a valve at the bottom. The design of this kettle means that all the leaves are caught by a mesh filter and your tea will be served with excellent clarity.
Our Machinery
Perhaps most important (I mean, we wouldn't have a café without it!) is our espresso machine, the beating heart of Cartwheel! It is our biggest piece of equipment and remains identical across both sites, to ensure the consistency of our coffee. The Black Eagle by Victoria Arduino is marketed as precise and reliable, and we train up all our baristas in how to use  it. With a fully interactive display screen, our baristas have full control over the most specific elements of coffee production including monitoring the group temperatures and the amount of liquid in the cup in grams. That's what really separates this machine from the pack, enabling every one of the thousands of coffees we make per week to be identical. If you're looking for a home espresso set-up, get in touch for some advice or look out for a future blog!
Supporting our machines are our high-tech digital scales (well, as high-tech as scales can be), made by Acaia. They are incredibly accurate within 0.1g and capable of weighing up to 2kg. They are also unbelievably fast, producing a weight reading in 20 milliseconds. But our favourite thing about these scales is their built-in timer, allowing us to exactly reproduce the same coffee recipe, every time. You might be wondering why spend £150 on a set of scales? Having broken (water-damaged) dozens of regular scales, the Pearl is designed with the coffee brewer in mind and Acaia have designed their scales with the weighpan completely impenetrable to stray drips, big spills and overflowing cups.
Conclusion
We hope that this blog has given you some insight into the behind the scenes of our bar. During our busiest days, these pieces of equipment work together in tandem to ensure your coffee is always poured consistently, no matter the rush. Perhaps next time you're drinking out of a Kinto cup, you'll think back on the many pieces of equipment that have come together in order to perfect your espresso or pour-over.